June 1st, 2010
I realize I am a little late to the game on this, but I am still getting better at this "blogging in a relevant time frame" thing. I hope it makes you feel better that I started this post on May 17th, the day after his death.
Irregardless, I strongly feel the need to write a post in memory of the most awesome, Ronnie James Dio, who passed on away on 16th b/c of stomach cancer. A man of his stature deserved a longer life and a less painful death. From his wife's statement, it sounds the legend at least went on after seeing many personal friends.
I was never a massive Ronnie James Dio fan – in that I listened to him endlessly or followed his career actively throughout the years. I knew a few of his songs, appreciated him as a rock legend, and deeply respected what he did for the genre. However, upon retrospect, he had one of the most solid careers in the hard rock music industry. And he never sold out or went on reality tv – he just kept making and performing musick. Reading a brief biography of his is inspiring – studying an in-depth one written by a fan is flat-out humbling.
Personally, my favorite of his music is actually from his solo portfolio. While his work w. Rainbow and Black Sabbath is beyond impressive, I feel like the that was just the beginning. He's obviously most famous for his song "Holy Diver", which is one of the best rock songs ever. That's no hyperbole – the more you listen to that song the better it is. Harder rocking then anything Sabbath ever put out, darker then Led Zeppelin. He was a force – someone who knew that the best thing they could do – for themselves and everyone involved, was to write, record, and perform rock music. Thank you for that, Mr. Dio.
He also helped popularize the universal "horns" symbol, which I think its quite fitting. It's the pure embodiment of the genre and the vibe, without being trite, or a glorification of excess. You'll notice there's no "Behind the Music" for Dio, because there's no tragic emotional breakdown, or crippling drug addiction, or larger then life ego that consumed everything. Ronnie James Dio just rocked for over 30 years, and did it with style.
While I was quite saddened when I heard the news, I have to admit that it has been a gradual acceptance and realization for me, which has hit me a little harder then I was expecting. The amount of respect I have for this man and what he has done is very hard for me to recognize. Mr. Dio has always been one of those musicians that came up in passing now and then – and when you checked him out finally you felt like you had been missing out on a great secret of the world. The more I learned about him, the more I have respected him. His career is most inspiring – a real champion of the music world. Exactly the kind of person I want to be.
I had the honor of seeing Dio in concert, one I barely appreciated at the time. It was 2002 at Merriweather Post Pavillion. Motorhead, Dio, and Iron Maiden. I don't think we made it in time for any of Motorhead (who I'd seen recently w. Anthrax), but we did catch the whole Dio set. I have to admit I was not completely engaged the whole time, but I did know I was watching a legend (from very very far away at least).
Mr. Dio is an aspiration to hold oneself to. For his music, his method, his genuine nature, and his incredible talent, I am continually saddened by the thought that he is no longer with us. However, the fact that this post is but a small (and likely rarely read) contribution to this man is proof enough that he will not go forgotten. Long live the spirit of Ronnie James Dio, the spirit of rock incarnate. Full horns, Mr. D. Full fucking horns.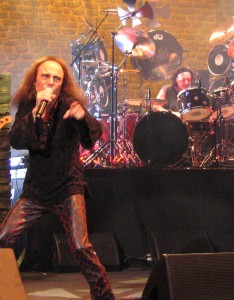 No Comments
No comments yet.
Comments RSS TrackBack Identifier URI
Leave a comment