August 4th, 2013
Harking back to the old days of blogging, I decided to keep track of all the cool stuff I did this weekend!
There is an intentional double negative in the title. This weekend contained 3 types of activities: things I do regularly, things I do every once in a while, and things I do semi-regularly but with certain specific details.
So, speaking of #3, Friday started out with (almost) free tickets to see Bobcat Goldthwait do standup. I have never seen Bobcat in person before, but I have gone to see comedy at this club (Cobb's) a few times since I've lived here. Then we said hi and got this picture that I look awkward in: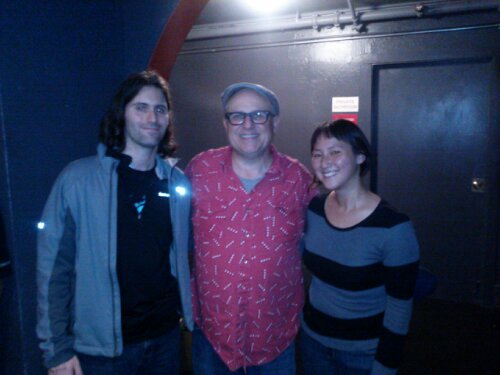 Note: I am a really big fan of Bobcat, and his set was a lot of fun. Apparently the early show before us featured a less enthusiastic crowd, but he seemed to think we were cool and told a lot of stories (in addition to his rehearsed standup).
The next day, J left to go to a bachelorette party for the night, leaving me to get into trouble. I chose to go shopping, make food, and watch movies.
Before I left to shop, I started some No-Knead Bread in the Dutch Oven, the first thing we've made in the D.O. You just mix the flour/yeast/salt/water and let sit for 12-24 hours for the "slow-rise".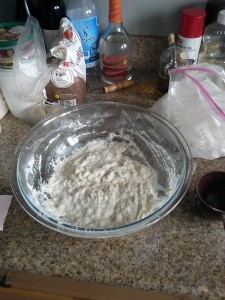 The first thing I set to work on when I got back was some potato-leek-cauliflower soup in the slow cooker. I found it here, who found it here: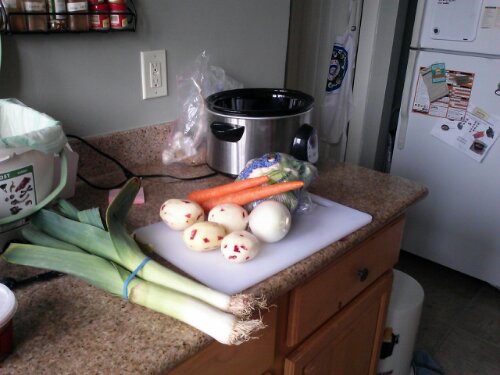 Its just potatos, cauliflower, leeks, onion, carrot, broth, and some rosemary & s/p. Chop it up, stick it in the slow-cooker for 6 hours on low. Then blend as much as you like for consistency, and you have 6 quarts of soup!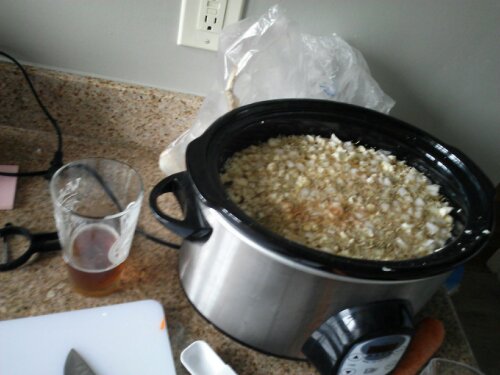 (You will notice a quarter glass of beer next to it, that's home-brew styled after the "Cooper's Sparkling" australian brew).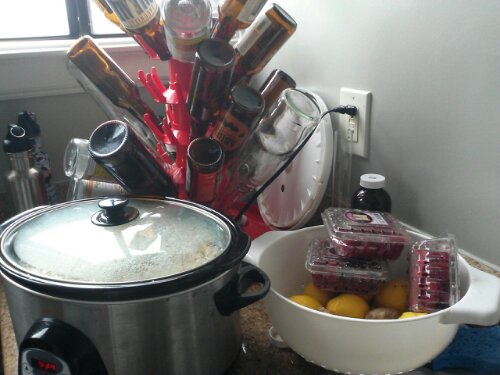 Behind my slow-cooker is the beer tree I bought J, which can both sanitize (using an attachment) and dry beer bottles.
Next to it is fruit for kombucha! I've made kombucha a few times now and am trying to get more comfortable with the process. It's supposed to be good for you, but I just like how it tastes and makes me feel. This kombucha has been brewing 3 weeks:
Most other people's kombucha is a little darker than this, but this is SF so the weather isn't too warm and I don't get great airflow in my kitchen, so this is probably less fermented than other 3-week kombuchas.
I mostly follow this recipe to brew, using jasmine or oolong tea, and let sit on top of my fridge. Then I do a secondary fermentation in beer bottles, adding either ginger + lemon or juice + chia seeds. This time the ginger I got was kind of dry, so I did less ginger lemon than usual, and used fresh raspberries that I blended in my food processor.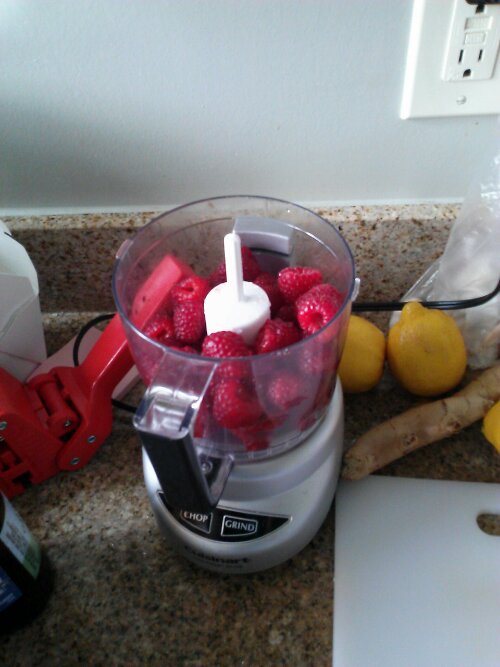 My current kombucha bottling process is still a little annoying, but I'm getting faster at it (it's all about planning!) I'm sure with some better bottles and brewing vessel I could make it go faster. This one involves funnels and saran wrap.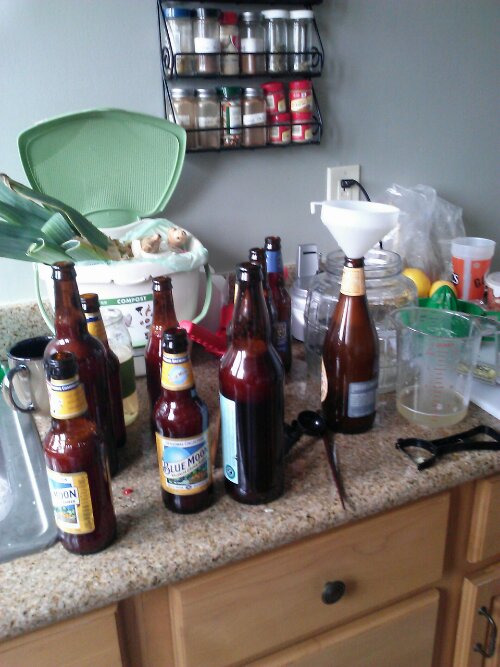 Now it was about time to go back to the bread I put together last night, but first I was a good boyfriend and swept the living room for the people who were going to crash here tonight: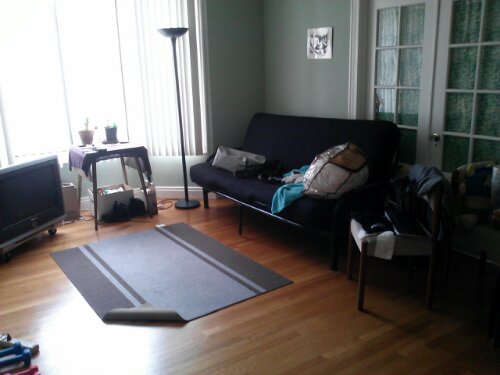 (I also got our music room, afterwards I was temporarily distracted by my fretless bass, despite the air mattress)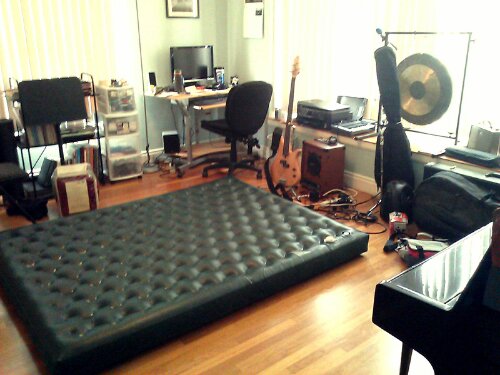 Ok, enough bragging about our awesome apartment.
Next I had to roll the sticky gunky bread dough together into a ball, even though it had yet to really take on any sort of shape. So this really meant covering it in flour, which kept it from spilling out everywhere, giving it a sense of form.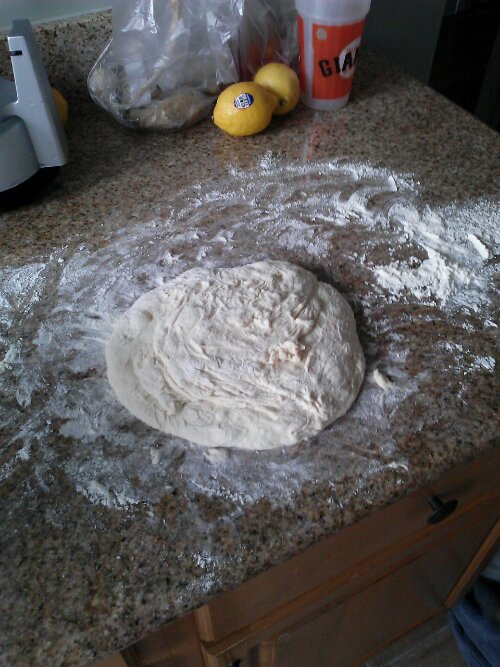 Then I stuck it in the dutch oven I'd been pre-heating in the stove (although not for long enough), and let it do its thing. 45 mins later it was finished and lookin pretty good!
In retrospect, I should have let it rise for a little after "forming" it, and let the dutch oven cook up a bit. I also realized that my dutch oven is giant for such a small loaf of bread. But, it was easy and tasted good! Sweet.
During this I watched movies that I haven't been able to motivate myself to watch. This included Gang Tapes (which was interesting if not a little draining), then The Girl Next Door (a disturbing yet incredibly well-made account of real-life torture – why do I do this to myself?), and then cleansed my palate with 48 Hours (ridiculous, but fun and easy).
It wasn't over though, even when I ate the soup! The next day I went to a free concert at Stern Grove (a beautiful donated park in SF) featuring The Relatives and Shuggie Otis, which was awesome. I also got there right on time for the music and scored the best seats I've had at the venue: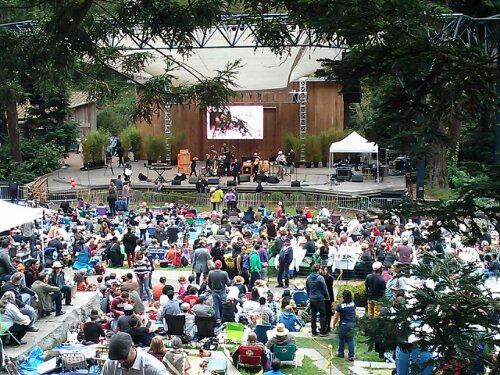 (I snapped this picture during intermission, so no one is there, but the Relatives were amazing and Shuggie Otis is a funk-legend (who played bass on one of my favorite Frank Zappa tunes!)
Life coming full-circle. Then I came home and watched Herzog's Grizzly Man, which brought back found memories of Alaska (oh yeah, I went to Alaska courtesy of my family and it was so wonderfully humbling – I will throw something together for that).
Now it's Monday and life is back to normal as seems to happen on such Monday's. Reality is full of deadlines and root canals (I wish I was lying about the root canals)….